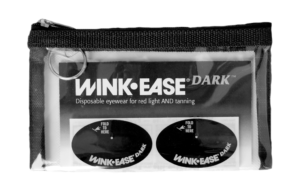 March 2020 – EYE PRO, Inc., world leader in disposable eye protection for indoor tanning and makers of Ultra Gold WINK-EASE, Lash Room WINK-EASE and WINK-EASE Dark, wants salons and tanners to know that WINK-EASE Dark is for Red Light sessions AND tanning!
"Tanners love our original Ultra Gold WINK-EASE disposable eye protection, however, when a tanner is hoping to catch a true power nap, the unanimous eye protection of choice is WINK-EASE Dark," says Brenda Fishbaugh, EYE PRO president. "WINK-EASE Dark disposable eye protection still provides FDA-compliant eye protection, but is considerably darker than our Ultra Gold WINK-EASE.  WINK-EASE Dark helps tanners nap more easily and avoid light-sensitive headaches," Fishbaugh continued. 
Even though eye protection is not required by law for Red Light sessions, it IS required in hybrid units emitting UV.  "Because of its custom fit, WINK-EASE Dark leaves maximum eye area exposed so clients receive the full benefits of Red Light in red light units or hybrid beds, while still protecting the eye from the VERY bright red light emitted," says Fishbaugh. 
It's simply very smart to protect your eyes from intense light and for salons to require eye protection for every offering," Fishbaugh concluded. (more…)