Expanded Pinterest Library Now Available for Salons!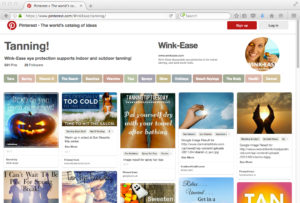 Eye Pro, Inc., world leader in eyewear and makers of Ultra Gold WINK-EASE, Lash Room WINK- EASE and WINK-EASE Dark, has loaded our Pinterest with over 500 tanning posts for you to share with tanners! Post to any other social media from Wink-Ease's Pinterest library!
"Keeping up with social media can be really time-consuming," said Jackie DeWald, Eye Pro Office Manager. "With so many tanners on various social media apps, it is important for salons to keep tanners informed in fun and creative ways, while weaving in your own products and promotions. Having a variety of lifestyle pictures, tanning tips and relevant posts to support our tanning industry keeps it easy for salons to collect and pin quickly, and saves time," she continued. "We strive to provide sharable posts which appeal to both salons and tanners through all social media options!"
"We've collected hundreds of tanning memes, inspirational images and ads for you to share and enlighten. We've also added eye protection information for you to keep everyone educated about why eye protection is so important," explained Brenda Fishbaugh, Eye Pro President. "Pinterest is just one more option to keep getting the positive messages out. We love working with the salons to better understand the importance of education, and using the social media platform is an inexpensive way to always keep in touch. Visit us on Pinterest at 'Wink-Ease.'"
For more info on Eye Pro products, visit WinkEase.com or call 800.726.8322. Follow and "like" WINK-EASE on Face book, Twitter, YouTube, Instagram and Pinterest to learn about special salon offers and promotions.