EYE PRO Proud to Help Others Help Others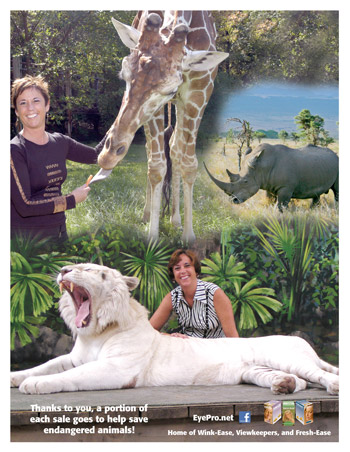 October 1, 2011— EYE PRO, Inc., world leader in eyewear and makers of WINK-EASE, VIEWkeepers, and Fresh-Ease is gearing up for season – the giving season that is!
'Tis the Season to Give,' and EYE PRO is proud to give back to the indoor tanning family that has been their home for 22 years.  "We heard a lot from salons helping our soldiers overseas this year," said Jackie DeWald, Office Manager at EYE PRO.  "We are honored to have sent 1,000 Fresh-Ease refreshing body cloths to soldiers to use when in a no-shower situation—they have been very grateful."
This year, EYE PRO created their 8-page 'Tanner's Guide to Eye Protection' to help salons convince tanners to wear eye protection.  "We were thrilled to be able to provide this valuable reference guide absolutely free to tanning salons," EYE PRO president Brenda Fishbaugh said.  "We've put over two decades of research and working with ophthalmologists into a handy booklet for salon staff—and it's now available FREE to tanning salons."
"EYE PRO's leading charity has always been helping endangered animals," states Renee Lofland, Director of Customer Support.  "Our owner, Brenda Fishbaugh, went to Kenya in 2009 to help stop the slaughter of rhinos.  They are killed because their horns are used in traditional medicines.  Brenda, and her husband, Steve, quickly realized that a little bit of money went a long way in protecting endangered animals."  Able to make a real difference, Fishbaugh and her husband are heading back to Lewa Reserve in March 2012.
Fishbaugh has once again made a large contribution to the Fort Wayne Children's Zoo.  "We feel very lucky to have one of the Top 10 Children's Zoos in the country right here in Fort Wayne, Indiana," explained Fishbaugh.  "It runs 100% on donations—the state does not support Indiana zoos."  To bring more awareness that a portion of every sale goes to help endangered animals, EYE PRO has created a collage so salon customers will know their contributions.  To get a signed 8 ½ x 11 animal poster to hang in your tanning room, go to EyePro.net/Promos and use the code word "collage."
For more information on WINK-EASE and VIEWkeepers disposable eyewear and Fresh-Ease Refreshing Body Cloths visit EyePro.net or contact EYE PRO at 1-800-726-8322. You can also follow and "like" us on Facebook (Wink-Ease/Eye Pro) for special salon offers and promotions.