For Tanners, A Picture is Worth a Thousand Words!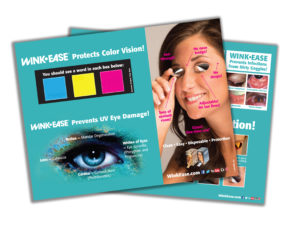 January 2018 – EYE PRO, Inc., world leader in disposable eye protection for indoor tanning and makers of Ultra Gold WINK-EASE, Lash Room WINK-EASE and WINK-EASE Dark, is offering salons an easy and effective way to help SHOW tanners why eye protection is critical.   
"Salon owners have expressed their frustration about how tanners don't seem to understand the importance of eye protection," says Brenda Fishbaugh, EYE PRO president. "While many salon staff learn about the importance of wearing eye protection as part of a certification such as 'Sun Is Life', salon owners still look for ways to help staff translate those hours of study into a quick 30-second message when the tanner walks through the door," continued Fishbaugh.  
Salons report that their staff become more conscientious about wearing their own eyewear, but still have difficulties effectively explaining this to the salon client. "After salon staff have taken our eye protection training at trade shows or online, the photos of eye damage from unprotected tanning always create a dramatic reaction," explained Jackie DeWald, EYE PRO Office Manager. 
EYE PRO has created a free educational tool showing why eye protection is required on one side, with photos of eye damage on the other side.  "Our new counter mat is not meant to be viewed by itself," said DeWald. "We don't want to scare any tanner, but having salon staff use our eye protection counter mat when they check in a customer or attached to the new customer clipboard makes it easy to talk about eye protection," she continued. 
"As soon as tanners see photos of what can happen to their eyes without proper eye protection, they understand the importance! Tanners are now ready to wear eyewear when tanning," DeWald concluded.
The laminated counter mat is also a great training tool to help teach staff what can happen without eye protection. "Make sure new staff members tan with all the different eye protection options you sell and know the benefits and the differences. Have them use our counter mat with every client to stress and understand why eye protection is so important," reminds Fishbaugh. "Educate your team so they can educate your tanners."
If your salon is interested in one of our FREE counter mats, please email your complete salon name and mailing address to WinkEase@WinkEase.com with "IST Counter Mat" in the subject line of the email.
For more information on Ultra Gold WINK-EASE, Lash Room WINK-EASE or WINK-EASE Dark, visit WinkEase.com or contact EYE PRO at 1-800-726-8322.
Follow and "like" WINK-EASE on Facebook, Twitter, You Tube, Instagram and Pinterest to learn about special salon offers and promotions.