FREE Educational Window Cling Available For Salons!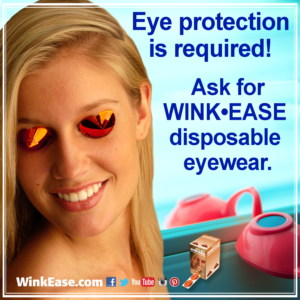 July 2019 – EYE PRO, Inc., world leader in eyewear and makers of Ultra Gold WINK-EASE, Lash Room WINK-EASE and WINK-EASE Dark, is offering salons a FREE WINK-EASE window cling.
"Eye protection is required by the FDA for every tanner to wear. Educating your tanners on the importance of protecting their eyes while tanning can be challenging, but having an informed staff makes it easier," said Jackie DeWald, EYE PRO Office Manager. "Having our window cling on the door is a great reminder for tanners to see as they walk in to know eye protection will be addressed as part of checking in," she continued. "The increased sales opportunity for the salon to sell eye protection to every client definitely helps the bottom line. Salons need to be creative with eyewear selections, offering both disposable eyewear and various goggles."
The window cling can be placed on the inside of the salon door or in the front window for maximum exposure.
"Helping salons sell eyewear as well as educate tanners on why they MUST and SHOULD wear eyewear is our focus at WINK-EASE," DeWald concluded.
For your FREE window cling, go to www.WinkEase.com/promos and complete the online form. Be sure to use promo code: PR Cling.
For more info on Ultra Gold WINK-EASE, Lash Room WINK-EASE or WINK-EASE Dark, visit WinkEase.com or contact EYE PRO at 1.800.726.8322.
Follow and "like" WINK-EASE on Facebook, Twitter, You Tube, Instagram and Pinterest to learn about special salon offers and promotions.