FREE Tanning Memes to Support Your Salon This Fall!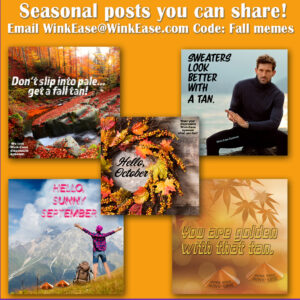 September 2020 – Eye Pro, Inc., world leader in clean, disposable eye protection for indoor tanning and makers of Ultra Gold WINK-EASE, Lash Room WINK-EASE and WINK-EASE Dark, is helping make social media efforts easier with fresh, new seasonal memes geared toward fall – FREE!
"Social media is a constantly moving target, and now more than ever, people are using it," explained Brenda Fishbaugh, Eye Pro President. "It's hard enough to determine which platform is best for your particular salon and then continuously engage your online followers. Social media ads, or 'memes' offer a quick, visual, fun way to stay in front of your customers on an on-going basis, while subtly educating them on the importance of eyewear, lotions and tanning tips."

Creating memes, though, can be a time-consuming challenge. "Your salon staff has so much to do on a daily basis already," continued Fishbaugh. "That's why we've created tons of memes for salons to use – some that are seasonal and ALL offered at no cost to the salons – which may be posted on Facebook, Twitter and Instagram to help promote tanning." 
To receive Eye Pro's fresh, new, FREE fall memes, email WinkEase@WinkEase.com and enter "IST Fall Memes" in the subject line. Eye Pro will email you social media tanning ads to post on your salon pages and across multiple platforms. Visit WINK-EASE on Facebook, Twitter, Instagram, YouTube and Pinterest to find various libraries of all of the available memes.
For more info on Ultra Gold WINK-EASE, Lash Room WINKEASE or WINK-EASE Dark clean, disposable eye protection, visit WinkEase.com or call 800.726.8322. Follow and "like" WINK-EASE on Facebook, Twitter, YouTube, Instagram and Pinterest to learn about educational information, special salon offers and promotions.