FREE Window Cling from WINK-EASE!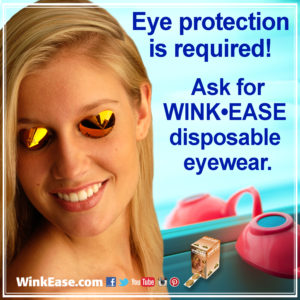 March 2017 – EYE PRO, Inc., world leader in eyewear and makers of Ultra Gold WINK-EASE, Lash Room WINK-EASE and WINK-EASE Dark, is offering salons a FREE WINK-EASE window cling.
"Salons are always looking for ways to help promote various products within their salon," explained Brenda Fishbaugh, EYE PRO President. "Our FREE window cling is a great way to not only let your tanners know how important eye protection is, but to also let your clients know you have the best and original brand of disposable eye protection available," said Fishbaugh.  "Many clients have used WINK-EASE for years and have learned to love and ask for WINK-EASE disposable eye protection."
"Many of the salons place pairs of WINK-EASE in baskets or have the rolls under the counter," said Jackie DeWald, EYE PRO Office Manager. "Our NEW window cling on the door is a great reminder as tanners walk in to both wear eye protection and ask for it by name," she continued. "Helping the salons market the product as well as educate them has been a great focus for us as manufacturers. The window cling can be placed on the inside of the door or front window for maximum exposure. We want to make sure the salons are equipped with the necessary tools to let tanners know they have eye protection options."
For your FREE window cling, go to www.WinkEase.com/promos and complete the pink online form. Use promo code: PR Cling.
For more info on Ultra Gold WINK-EASE, Lash Room WINK-EASE or WINK-EASE Dark, visit WinkEase.com or contact EYE PRO at 1.800.726.8322.
Follow and "like" WINK-EASE on Facebook, Twitter, You Tube, Instagram and Pinterest to learn about special salon offers and promotions.