This page is for our international visitors from outside the United States and Canada.
Ultra Gold WINK-EASE®

Our Ultra Gold WINK-EASE® carries the highest product certification standards, including the CE Mark, the legal mark that demonstrates compliance with the Personal Protective Equipment Directive.
The ORIGINAL clean, easy and disposable eye protection just got better!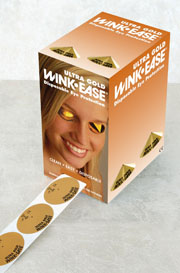 • Improved adhesive!
• AMAZING visibility!
• Easier to assemble!
• Still complete UVA/UVB Block
• Great for stand-up units
• Countertop display includes 250 pair
• Also available in 30-pair resealable paks
• Meets FDA Standards for 21 CFR 1040.20 for US indoor tanning
• Meets European Standards for EN:166 & EN:170 for indoor tanning
Ultra Gold WINK•EASE is a registered trademark of EYE PRO, Inc. All rights reserved. INSPEC Certification Services, Upper Wingbury  Coutyard, Wingrave, Aylesbury, Buckinghamshire, HP22 4LW, England. Notify Body No. 0194.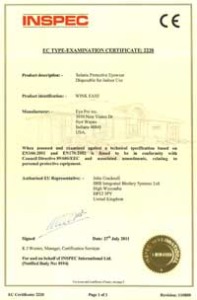 Click here to download/view a PDF of the current INSPEC certificate.
Approved only for one-time use. Store in a clean, dry place at room  temperature. Authorized for use in indoor tanning equipment and solaria only. Ultra Gold WINK-EASE has a two-year shelf life from the date of the manufacture.