Know Your State's Current Indoor Tanning Regulations!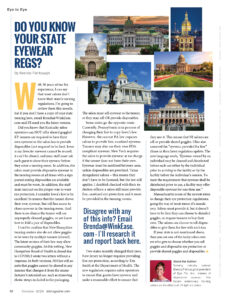 October 2020 – EYE PRO, Inc., world leader in clean, disposable eye protection for indoor tanning and makers of Ultra Gold WINK-EASE, Lash Room WINK- EASE and WINK-EASE Dark, is making it easy for salons to find the most up-to-date regulations for indoor tanning in their state.
"When referencing some eyewear laws for this month's IST Magazine Eye to Eye column, I found that most of the online links for state regs no longer worked," explained Brenda Fishbaugh, Eye Pro President. "States have updated their websites and a lot of information was removed or is buried. So, I contacted several states health offices, but often was shuttled to cosmetology, radiology, or consumer affairs. One directed me to a very small section of a tanning regulation, but it was just the application for getting a state tanning license (of course, they have that front and center). My former files of tanning regs are completely out of date!
"I thought, 'if I'm having trouble finding out who is in charge of indoor tanning in each state, I'm sure salon owners are having the same issue and might be unable to locate the proper information,'" Fishbaugh continued. "So, I thought, 'why not offer to help do the work and navigate through the mess of outdated info, broken links, and 404 Errors?'"
If you would like help to update your Indoor Tanning State Regulations, simply email Brenda@WinkEase.com with your name, salon name, address, email and phone, as many states need that information. Use code: "Need state regs" in the subject line. Brenda will email you the info she finds and who she contacted in your state to get it.
For more information on Eye Pro disposable eye protection, visit WinkEase.com or call 800.726.8322. To learn about educational information, special salon offers and promotions, follow and "like" WINK EASE on Facebook, Twitter, YouTube, Instagram and Pinterest to learn about educational information, special salon offers and promotions.