Let WINK-EASE Help With Your Salon Celebrations!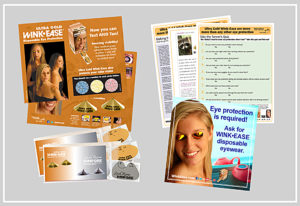 April 2017 – EYE PRO, Inc., world leader in eyewear and makers of Ultra Gold WINK-EASE, Lash Room WINK-EASE and WINK-EASE Dark, loves supporting salons throughout the year for various special events!
"We offer our celebration pack to any salon having an organized special event," said Jackie DeWald, EYE PRO office manager.  "We help make it easier for salons by providing WINK-EASE samples, along with educational materials on the importance of wearing eye protection. What makes a great celebration? Anniversaries, grand openings, community fundraisers, open houses, seasonal and special promotions; the ideas for events are endless!"
Included in the celebration pack are samples of EYE PRO's Ultra Gold WINK-EASE, Lash Room WINK-EASE and WINK-EASE Dark to give to tanners at the event. "Since EYE PRO manufactures the leading disposable eye protection in tanning, we want to make sure salons have the proper tools to help clients understand the importance of eye protection," explained Brenda Fishbaugh, EYE PRO president. Each celebration pack also contains EYE PRO's laminated counter mat showing possible eye damage references from tanning without properly cleaned eyewear, as well as education articles about avoiding raccoon eyes, and a quiz for tanners. The pack also includes this season's NEW WINK-EASE Window Cling for displaying on the front door of the salon to let tanners know they carry WINK-EASE.
Salons may request celebration packs by emailing WinkEase@WinkEase.com. Please include the salon name, mailing address, event date, distributor name, and a copy of any promotional materials created for the event.
For more info on Ultra Gold WINK-EASE, Lash Room WINK-EASE or WINK-EASE Dark, visit WinkEase.com or contact EYE PRO at 1.800.726.8322.
Follow and "like" WINK-EASE on Facebook, Twitter, You Tube, Instagram and Pinterest to learn about special salon offers and promotions.