Receive Your "Eye Protection Expert" Badge!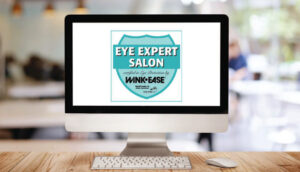 FT. WAYNE, IN – Eye Pro, Inc., world leader in disposable eye protection for indoor tanning and makers of Ultra Gold WINK-EASE, Lash Room WINK-EASE and WINK-EASE Dark, is offering even more support to salons to beef up their professional presence on social media. 
"Salons love our personalized 'Eye Protection Expert' certificates to display in their salons and show customers each staff member has been trained in all aspects of eye protection," stated Eye Pro President, Brenda Fishbaugh. "Now, salons can receive a FREE 'Eye Protection Expert Salon' badge to post on the salon's website and social media pages, letting potential and current tanners know the professionalism of the salon before they step foot in the door!" 
"We offer a FREE, award-winning, salon training online – available 24/7," reminded Jackie DeWald, Eye Pro Office Manager. "Upon completion of this training, which explains both how to become an eyewear expert and a ton of easy ways to earn more on eyewear, salons will receive the 'Eye Protection Expert Salon' badge to proudly display on both the salon's social media channels and website," she continued. "When you run a professional salon with a highly educated staff, it's so important to promote that to customers, and we feel our certificates and badge help send that message to salon clientele." 
To take Eye Pro's 30-minute training, go to WinkEase.com, hover over the "Support" navigation button and then select "Salon Training" from the drop-down menu. The online training is FREE and available to take anytime.
After completing, each salon staff member who participates will receive a customized certificate to display in the salon, along with an 'Eye Protection Expert Salon' badge for social media use. Make sure to follow the link and pay attention to the code word in the training.
For more info on Eye Pro products, visit WinkEase.com or call 800.726.8322. Follow and "like" WINK-EASE on Facebook, Twitter, YouTube, Instagram and Pinterest to learn about special salon offers and promotions.