Supporting Your Community Pays Back Big Time!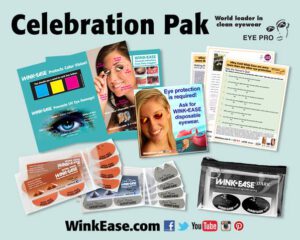 November 2019 – EYE PRO, Inc., world leader in disposable eye protection for indoor tanning and makers of Ultra Gold WINK-EASE, Lash Room WINK-EASE and WINK-EASE Dark, encourages salons to look for opportunities to become involved in supporting their local community.
"Supporting small businesses within your community shows you care and support your local economy," explained Brenda Fishbaugh, EYE PRO president. "You can choose from a variety of efforts and activities and pick one to do during the upcoming holidays — 'Tans for Cans', 'Toys for Tots', 'Charity Tree', or the support of a local family having a hard time, etc. (just to name a few) — the opportunities to give back are endless," Fishbaugh continued. "It never hurts to ask your business contacts to help support a good cause too. You may find other manufacturers supporting your salon with lotions, eyewear or a variety of accessories who are more than willing to help." 
EYE PRO loves working with salons to help support planned events. EYE PRO's Celebration Pack with educational materials on why eye protection is important, as well as samples for the salon is available to provide to tanners who participate in a planned event.
"Getting involved with your community has endless benefits. Collect food for a local food pantry, or collect pet food/supplies for a local animal shelter. You don't have to make things expensive and elaborate — it truly is the thought that counts." said Jackie DeWald, EYE PRO Office Manager. "And these aren't just ideas for the holiday time — they can be implemented at any time during year. Giving back is not just seasonal — it can become a year-round philosophy," 
"Some days it feels like we have a world of takers, but truly we do NOT!" DeWald continued. "If you take a moment to look around each day, you will see people doing random acts of kindness… because it is the right thing to do!  Organize an event for your salon and find something you are passionate about, excited about improving or want to get involved in. Then ask your fellow business partners to help. You will be surprised by how many companies will support you!"
To receive a FREE seasonal Celebration Pack,  email WinkEase@WinkEase.com and enter 'IST Celebration' in the email subject line. We will need you salon name, address and date of the event. 
For more information on Ultra Gold WINK-EASE, Lash Room WINK-EASE or WINK-EASE Dark, visit WinkEase.com or contact EYE PRO at 1-800-726-8322.  Follow and "like" WINK-EASE on Facebook, Twitter, You Tube, Instagram and Pinterest to learn about educational information, special salon offers and promotions.