Ultra Gold Wink-Ease Hit the Fashion Industry!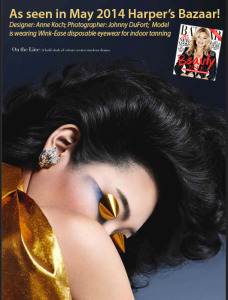 May 1, 2014 – EYE PRO, Inc., world leader in eyewear and makers of NEW Ultra Gold WINK-EASE, VIEWkeepers, Fresh-Ease and Wink-Ease Dark, is excited to announce that Ultra Gold Wink-Ease is making its fashion premiere in the May issue of Harper's Bazaar.
"Our Ultra Gold Wink-Ease disposable eye protection is so interesting, it caught the attention of New York City jewelry designer and artist Anne Koch for a fashion shoot for the magazine," explained Brenda Fishbaugh, EYE PRO President. "We were so thrilled to have the opportunity to work with Anne. Anne is extremely talented and was looking for something new and exciting for her model shoot."
Koch is a Dutch artist based in New York. She explores 3D objects within the medium of stills, film and video. The image features Ultra Gold Wink-Ease highlighting a smoky eye with Giorgio Armani "Eyes to Kill" eye shadow in Mediterranean, and also features Van Cleef and Arpels earrings to create modern drama.
"What an honor to be working with Anne and her very talented team.  It isn't every day you have the opportunity to be in such a prestigious magazine like Harper's Bazaar," said Brenda. "We could not be more thrilled to be in the May issue."
For more information on NEW Ultra Gold WINK-EASE and VIEWkeepers disposable eyewear, Wink-Ease Dark disposable eye protection for Red Light and Fresh-Ease Refreshing Body Cloths for After Tanning, visit EyePro.net or contact EYE PRO at 1-800-726-8322.
Follow and "like" EYE PRO on Facebook (Wink-Ease/Eye Pro) or Twitter to learn about special salon offers and promotions.