Use Pinterest for Tanning Memes and More!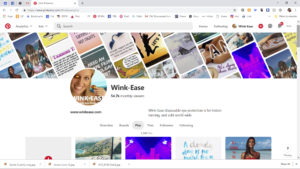 March 2019 – EYE PRO, Inc., world leader in disposable eye protection for indoor tanning and makers of Ultra Gold WINK-EASE, Lash Room WINK-EASE and WINK-EASE Dark, loves to support salons by offering social media tips.
Many salons use social media such as Facebook and Instagram to promote tanning salon products and services. "Of the myriad of social media platforms salons use, many skip Pinterest," observes EYE PRO president Brenda Fishbaugh.  "Pinterest can be used as a 'storage locker' for all your tanning memes. In addition to keeping your tanning posts, you can also 'pin' interesting items onto 'Bulletin Boards' that act as folders to categorize tanning articles, salon decor ideas, beach photos, local events and photos and your before/after captures," Fishbaugh continues.  
"In reviewing our WINK-EASE Pinterest 'Followers', we noted that salons 'pinning' on Pinterest often have 'Boards' called 'Luscious Lotions', 'Decor Dreams', 'Inspiration', 'Sunless Tanning', 'Tanning Memes', 'Tan Staff Education Info', 'Tanning Tips', 'Tanning Fun', and 'Red Light', says Jackie DeWald, EYE PRO office manager. "For example, if you had Marketing memes created called, 'Spring Tanning Deals', you wouldn't want your customers or your competitors to be able to see it.  Simply 'hide' that Board until you are ready for the big reveal, and then with the click of a single button, the Board is now seen by all of your followers!" exclaims Jackie DeWald, EYE PRO office manager. 
To give salons a real-life example to view, EYE PRO set up a "WINK-EASE" page on Pinterest, then created a board called 'Tanning!'  This board gets over 50,000 views and 200 memes saves to tanning salon Boards each month! 
Looking for social media to share?  The WINK-EASE Pinterest 'Tanning!' Board has over 1000 tanning posts you can share on any social platform!  Using Pinterest is a perfect way for salons to store holiday memes in one place until it's time to use them, and a great place to see hundreds of memes all at once — no more hours spent slowly trolling over everyone's Facebook page trying to find just the right social media post.  
Follow and "like" WINK-EASE on Facebook, Twitter, You Tube, Instagram and Pinterest for free memes to share and to learn about special salon offers and promotions.
For more information on Ultra Gold WINK-EASE, Lash Room WINK-EASE or WINK-EASE Dark, visit WinkEase.com or contact EYE PRO at 1-800-726-8322.