Use "We Are Now Open" Social Media Memes to Reassure Tanners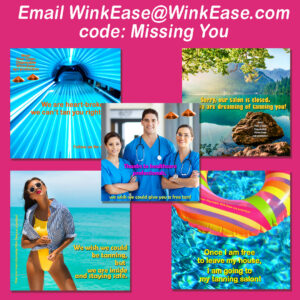 May 2020 – EYE PRO, Inc., world leader in disposable eye protection for indoor tanning and makers of Ultra Gold WINK-EASE, Lash Room WINK-EASE and WINK-EASE Dark, is offering FREE tanning ads for salons to use to reassure tanners and draw attention to the increased safety measures salons are taking as they re-open.
"Everyone is nervous about re-entering the outside world after this stay-at-home mandate," reminds Jackie DeWald, Office Manager for EYE PRO.  "It's important to still stay top of mind with your tanning clients as they begin going places outside their homes.  Social media continues to change the way businesses are communicating and interacting with clients, and these tanning memes are a great way to quickly make a fun, positive, immediate connection while reassuring customers you understand their concerns." 
"With today's world driven so much by what's on social media, we wanted to keep helping support our salons and our industry in any way we can,"  stated Brenda Fishbaugh, President of EYE PRO, Inc,. "We have created a ton of positive "Can't Wait to See You in Our Crazy Clean Salon!" tanning memes that are available at no cost to salons to post on Facebook, Twitter and Instagram to help promote tanning during these unprecedented times."
Using multiple social media like Facebook, Instagram, Twitter, YouTube and Pinterest, EYE PRO offers many ways for salons to connect and reach out to tanning clients. "Social media is how your tanners are getting information, so don't forget to also post your social distancing, cleaning and sanitizing practices, or your eyewear policy," suggests Fishbaugh. "All are great ways and reasons to re-engage your tanners." 
If you're a salon and would like to receive a selection of FREE re-opening tanning memes to use for your social media marketing, simply email WinkEase@WinkEase.com with "IST Re-Open" in the subject line. EYE PRO will send you via email your FREE tanning memes to help you reach your tanners! 
Not opening yet?  Email WinkEase@WinkEase.com with "IST Missing You" in the subject line for memes that let your tanners know they are important and the heart of your business.  
For more information on Ultra Gold WINK-EASE, Lash Room WINK-EASE and WINK-EASE Dark, visit WinkEase.com or contact EYE PRO at 1-800-726-8322.
Follow and "like" WINK-EASE on Facebook, Twitter, You Tube, Instagram and Pinterest to learn about special salon offers and promotions.