WINK-EASE Dark is the perfect eye protection for Lunchtime Tanners!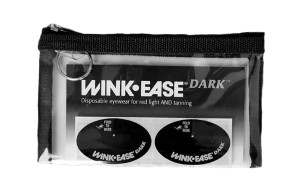 April 2016 – EYE PRO, Inc., world leader in disposable eye protection for indoor tanning and makers of Ultra Gold WINK-EASE, Lash Room WINK-EASE and WINK-EASE Dark, wants lunchtime tanners to try WINK-EASE Dark for a relaxing tan during the day.
"Tanners love our traditional 250-pair box Ultra Gold WINK-EASE disposable eye protection, however, when a tanner is hoping to catch a quick power nap, the eye protection of choice is WINK-EASE Dark," says Brenda Fishbaugh, president. "WINK-EASE Dark disposable eye protection provides FDA compliant eye protection, but is considerably darker than our Ultra Gold WINK-EASE. Tanners can nap easily after a too-much-fun weekend, a tough work day or if they just prefer a darker tanning environment to avoid light-sensitive headaches," Fishbaugh continued.

"Our WINK-EASE Dark is available in a 50-pair zipper pouch, which allows salons to affordably carry WINK-EASE Dark for those specific clients who prefer darker eyewear during their session, along with WINK-EASE Ultra Gold and Long-Lash WINK-EASE inventory," explains Jackie DeWald, Office Manager. "WINK-EASE Dark also make Red Light sessions much more comfortable by blocking the intense light. Remember, closing your eyes or using a towel over your face is NOT enough protection for your eyes. Tanners can choose between the great visibility of WINK-EASE Gold or the restful dark of WINK-EASE Dark, depending on how their day is going," DeWald concluded.
To try WINK-EASE Dark, please go to WinkEase.com/Promos to request samples and use code work "IST Dark".  For more information on Ultra Gold WINK-EASE, Lash Room WINK-EASE or WINK-EASE Dark visit WinkEase.com or contact EYE PRO at 1-800-726-8322.
Follow and "like" WINK-EASE on Facebook, Twitter, You Tube, Instagram and Pinterest to learn about special salon offers and promotions.