Social Media Training for Tanning Salons Now Available!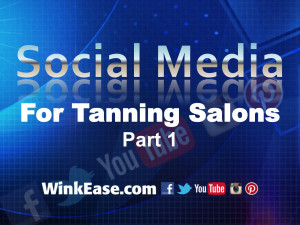 October 2016 – EYE PRO, Inc., world leader in disposable eye protection for indoor tanning and makers of Ultra Gold WINK-EASE, Lash Room WINK-EASE and WINK-EASE Dark, wants to help tanning salons become effective with social media, so they've created a FREE online training to do just that!
"As a small business, we knew we needed to step into the world of social media. We tried to figure out where on social media we should be.  Where should we post? What time should we post? How many posts? Personal or business page? It was all very confusing," said Brenda Fishbaugh, President of EYE PRO. "I took a few online courses and read some blogs, but the information was aimed at a wide variety of business — big business and online business — and lots of the information didn't apply to me or to tanning salons," she continued.
"I decided to distill the information down to what was useful for small tanning salons who had very little time and money to struggle with social media. Our 30-minute You Tube video — "Social Media for Tanning Salons Part 1" — simplifies social media and shows what you can do with just five minutes a day,"  explained Fishbaugh.
Jackie DeWald, EYE PRO Office Manager agrees. "With all the various social media apps these days, it can easily become overwhelming. It seems like once you get it figured out, they change the rules again. Our test salons told us that they were floored with how much they learned from our "Social Media for Tanning Salons Part 1,"  said DeWald. "Even if you've been on social media for awhile, there's still something you'll learn from this training," she concluded.
To take the FREE 30-minute Social Media training, visit WinkEase.com and click on the support tab and select the training from the drop down menu.  Fishbaugh also say that "Social Media for Tanning Salons Part 2" will be available later in the year.
For more information on Ultra Gold WINK-EASE, Lash Room WINK-EASE or WINK-EASE Dark, visit WinkEase.com or contact EYE PRO at 1-800-726-8322.
Follow and "like" WINK-EASE on Facebook, Twitter, You Tube, Instagram and Pinterest to learn about special salon offers and promotions.