7 Questions with… Brenda Fishbaugh, President, Eye Pro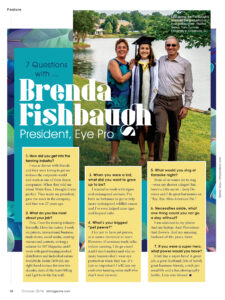 1. How did you get into the tanning industry?
I was at dinner with friends and they were trying to get me to leave the corporate world and work at one of their dozen companies. When they told me about Wink-Ease, I thought it was perfect. They made me president, gave me stock in the company, and that was 27 years ago.
2. What do you like most about your job?
First, I love the tanning industry. Secondly, I love the variety. I work on patents, international business, trade shows, social media, creating memes and contests, writing a column for IST Magazine, and I work with great tanning product distributors and individual salons worldwide. Jackie DeWald, my right-hand woman for over two decades, does all the heavy lifting and I get to do the fun stuff.