Thanks to you, our salon customers, Eye Pro is able to support the following organizations (click on each to learn more).  You can follow our animal advocacy on Facebook.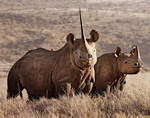 Lewa Wildlife Conservancy
Brenda Fishbaugh, President of Eye Pro, has led the charge to save endangered animals around the world.  Lewa Conservancy is leading the way to save rhinos from extinction.  Brenda has been to Africa numerous times to work with Lewa staff on ways to protect the rhinos, improve the life of the people, and provide funding for education.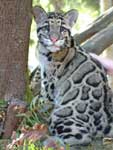 Clouded Leopard Project
Clouded Leopards, who live in Thailand and Vietnam,  are one of the most endangered cats.  Eye Pro is one of the top sponsors to provide funding for zoologists and conservation education.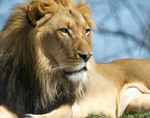 Fort Wayne Children's Zoo
Brenda and Steve Fishbaugh are major donors to their local zoo, Fort Wayne Children's Zoo in Fort Wayne, Indiana.  "Jungle Jack" Hanna rates Fort Wayne as one of the top children's zoo in the country.  "Our zoo is 100% supported by private donations.  They receive no government funding, so we feel we really need to pitch in to keep such a great resource in Indiana," says Brenda.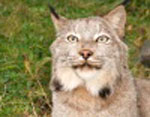 Point Defiance Zoo and Aquarium
Eye Pro has funded the purchase of an African serval cat named Bashan, and an Canadian Lynx, named Yukon.  Both animals were featured in the Close Encounters educational program at Point Defiance Zoo and Aquarium in Tacoma, Washington.  Point Defiance is a leader in educating guests on the amazing natural behaviors of wild animals.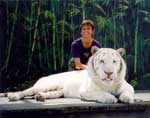 Tiger Island in Australia
Eye Pro supports the great work being done by Tiger Island to educate thousands of guests on endangered guests.  Brenda  is shown with 400-pound white Bengal tiger,Taj, who resides at Tiger Island, Queensland, Australia.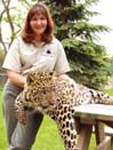 Black Pine Animal Sanctuary
Chyna (pictured) and Chui, both Asian leopards, are two of the endangered cats whose rescue at the Black Pine Animal Sanctuary in Albion, Indiana was made possible by Eye Pro's support.