Angela Espinoza Wins Big in Vegas with EYE PRO!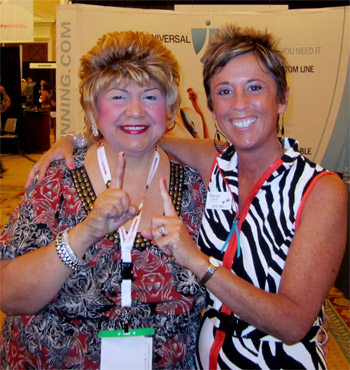 July 8, 2011 — EYE PRO, Inc., world leader in eyewear and makers of WINK-EASE, VIEWkeepers, and Fresh-Ease helped three salons "get lucky" in Vegas at the recent 2011 West Coast Tanning Expo at Caesar's Palace.
Everyone who attended EYE PRO's 15-minute presentation in Vegas at the show was entered into the $1,000 drawing. Angela Espinoza from Sun Kissed Tans in Fresno, CA won her choice of a thousand dollars worth of Eye Pro products. "Angela was so thrilled and excited," said Brenda Fishbaugh, president of EYE PRO. "Angela was the lucky drawing winner, and likes our VIEWkeepers disposable eye protection best!"
EYE PRO also had two drawings at the booth for fun safari bags filled with EYE PRO products. Andrea Hall of Bronze Bay and Donna Hancock of Sunrise Salon were the lucky winners of the safari bags. "Thanks to everyone who stopped by to see us in Vegas and filled out an entry form," said Fishbaugh. "We love you!"
See more photos of EYE PRO in Vegas on the EYE PRO Facebook page (Wink-Ease/Eye Pro).  For more information on WINK-EASE and VIEWkeepers disposable eyewear and Fresh-Ease Refreshing Body Cloths visit EyePro.net or call EYE PRO at 1-800-726-8322.