EYE PRO announces Wink-Ease Dark for Red Light AND Tanning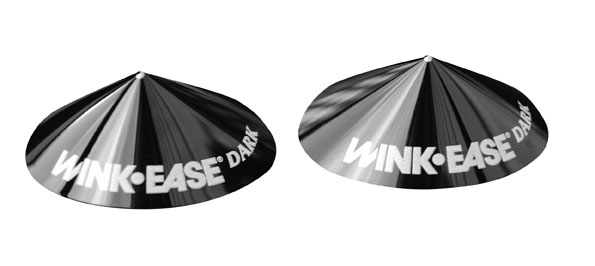 November 29, 2011- EYE PRO, Inc., world leader in eyewear and makers of WINK-EASE, VIEWkeepers, and Fresh-Ease, is delighted to announce a new eye protection product for red light and tanning.
Wink-Ease Dark is a disposable eye protection designed to block the intense rays from Red Light units.  "When I began using a Red Light unit myself, I was dissatisfied with the eye protection provided to me.  It didn't seem to do much to block the very bright lights in the unit that made it very uncomfortable to lay still, even with my eyes closed," says Eye Pro President, Brenda Fishbaugh.  "My long-time staff really believed Red Light was going to be the next wave in the indoor tanning industry and we should design eye protection for this burgeoning market," Fishbaugh continues.
Wink-Ease Dark is similar to traditional disposable Wink-Ease.  Wink-Ease Dark is black, to block more of the lamp light, and is also FDA-compliant for indoor tanning units.  "There are several Red Light units that have tanning capabilities at the same time, so we knew we needed to make Wink-Ease Dark to meet FDA regulations 21 CFR 1040.20  for sunbeds, as well as make a collagen treatment comfortable,"  said Fishbaugh. Tanners are also protected if they use Red Light wearing Wink-Ease Dark, and then use a traditional tanning bed afterwards.
"We've added some Red Light eye protection training to our free online training," says Renee Lofland, Director of Salon Training.  Go to EyePro.net and take the 45-minute educational training explaining why eye protection should be worn while tanning and why it's a good idea to wear eye protection when exposed to red light.  To view the pre-recorded 45-minute training, all that's needed is a computer with high speed internet access. Since it's a pre-recorded version, salons can pick the day and time to view — anytime, anywhere — 24/7! To take the training, visit EyePro.net and click on "Free Online Training" on the home page.
For more information on Wink-Ease Dark, WINK-EASE and VIEWkeepers disposable eyewear and Fresh-Ease Refreshing Body Cloths visit EyePro.net or contact EYE PRO at 1-800-726-8322. You can also follow and "like" us on Facebook (Wink-Ease/Eye Pro) for special salon offers and promotions.