EYE PRO Supports Community Through Charis House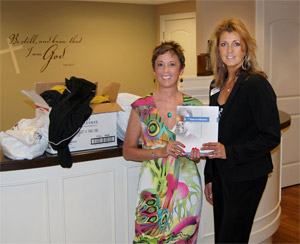 June 1, 2012 – EYE PRO, Inc., world leader in eyewear and makers of WINK-EASE, VIEWkeepers, Fresh-Ease, and Wink-Ease Dark is once again committed to helping others.
Renee Lofland, EYE PRO's Director of Customer Support, heard about a local fundraiser for Charis House, who assists and provides for women and children experiencing a homeless crisis in Fort Wayne, Allen County and the nine surrounding areas. Renee rallied the troops at EYE PRO, asking everyone to clean out closets, get friends and family involved, and collect donations for Charis House.
"It seemed like a perfect fit for all of us," said Lofland. "In an office filled with women who have families, it just made sense to help other women and children find a fresh start through Charis House."  "They need a lot of assistance with their mission to not only find relief from homelessness, but help these families heal and move forward again," she continued.
In addition to providing a place for women and children to stay, the 78-bed Charis House provides free programs which include assistance in finding jobs and housing, building life and parenting skills, and learning how to experience emotionally stability and better navigate life's challenges. Needs lists include clothing, toys, personal toiletries, towels, linens, cleaning supplies and laundry soap. Charis House is part of the Rescue Mission of Fort Wayne, whose mission is to provide restorative care for men, women and children in homeless crisis. Annually, more than 216,000 meals and 46,000 nights of lodging are provided, in addition to goal-oriented programs, job readiness training, and spiritual, emotional and physical healing.
For more information on Charis House, please visit EyePro.net and click on the Charis House link. If you would like to donate to Charis House in Fort Wayne, Indiana, you can send women and children's clothing, toys and any personal care items/toiletries to the attention of Renee Lofland; EYE PRO, Inc., 3930 New Vision Drive, Fort Wayne, IN 46845.
EYE PRO would also encourage everyone to find a local agency in need of help and donate/give locally, as well as globally. "The tanning industry is such a giving, supportive community. We all have a lot to be thankful for here at EYE PRO, and it only seems right to give back in any way we can when we are so fortunate," noted Brenda Fishbaugh, Eye Pro's President. "I think it's our duty as members of society and the world at large to help those in need whenever and wherever we can."
EYE PRO is the largest manufacturer of disposable eye protection in the world, and has built a reputation as the "eyewear experts" in the indoor tanning industry.  For more information on WINK-EASE and VIEWkeepers disposable eyewear, new Wink-Ease Dark disposable eye protection for red light therapy, and Fresh-Ease Refreshing Body Cloths for after tanning, visit EyePro.net or contact EYE PRO at 1-800-726-8322. You can also follow and "like" EYE PRO on Facebook (Wink-Ease/Eye Pro) to learn about special salon offers and promotions.