EYE PRO Supports ITA PAC
October 17, 2011— EYE PRO, Inc. president Brenda Fishbaugh, recently donated $1,000 to the Indoor Tanning Association's (ITA) Political Action Committee (PAC).  The ITA PAC makes private contributions to politicians' campaigns that will further the indoor tanning industry.  Currently, the PAC is funding politicians that are working to repeal the 10% Tan Tax.  All donations to PAC must be made from individuals, and cannot be made from companies.
"I've donated to the ITA PAC several times," says Fishbaugh.  "It's critical we fund a balanced view of indoor tanning and not let the medical community make unwarranted claims against tanning beds. If every salon owner would join the association and donate just $100 per salon, the Indoor Tanning Association's PAC could be much more effective in lobbying for our right to tan."
Donations can be made by contacting John Overstreet at the ITA (email: Admin@TheITA.com).
Fishbaugh has been active in the indoor tanning industry for 22 years.  EYE PRO, Inc. is the world leader in eyewear and makers of WINK-EASE, VIEWkeepers, and Fresh-Ease.  For more information on WINK-EASE and VIEWkeepers disposable eyewear and Fresh-Ease Refreshing Body Cloths visit EyePro.net or contact EYE PRO at 1-800-726-8322. You can also follow and "like" us on Facebook (Wink-Ease/Eye Pro) for special salon offers and promotions.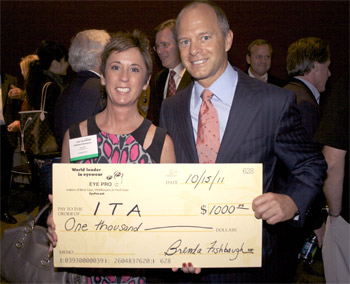 EYE PRO president Brenda Fishbaugh presenting $1,000 check to outgoing ITA president Dan Humiston at Oct. 15 Smart Tan Show event in Nashville