EYE PRO Supports VisionWalk 2012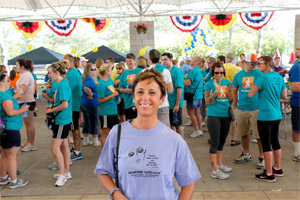 July 1, 2012 – EYE PRO, Inc., world leader in eyewear and makers of WINK-EASE, VIEWkeepers, Fresh-Ease, and Wink-Ease Dark, participated in VisionWalk 2012 in Fort Wayne, Indiana on Saturday, June 9.
"We thought supporting VisionWalk 2012 was a perfect fit for EYE PRO, who has been protecting eyes while tanning for over 25 years," said EYE PRO president Brenda Fishbaugh.
Since its inception in the Spring of 2006, VisionWalk has raised over $21 million to fund sight-saving research, and held 52 walks in cities across the country. As promising treatments move into critical human studies, the need for research funding is greater than ever. VisionWalk 2012 in Fort Wayne had 430 walkers and raised $51,000. EYE PRO is proud to join the fight against blindness and and participate in helping to raise both critically needed funds for research and awareness about the 10 million Americans affected by blinding retinal diseases.
For more information on VisionWalk, please visit EyePro.net and click on the VisionWalk link, where you can join the tens of thousands of people who have taken important steps toward a cure by participating in a 5K VisionWalk. Find a Walk near you and register today!
EYE PRO is the largest manufacturer of disposable eye protection in the world, and has built a reputation as the "eyewear experts" in the indoor tanning industry.  EYE PRO's disposable eyewear is also great for sunless spray tanning.
For more information on WINK-EASE and VIEWkeepers disposable eyewear, new Wink-Ease Dark disposable eye protection for red light therapy, and Fresh-Ease Refreshing Body Cloths for after tanning, visit EyePro.net or contact EYE PRO at 1-800-726-8322.
You can also follow and "like" EYE PRO on Facebook (Wink-Ease/Eye Pro) to learn about special salon offers and promotions.