Join EYE PRO in Raising Awareness and Support of Kenyan Women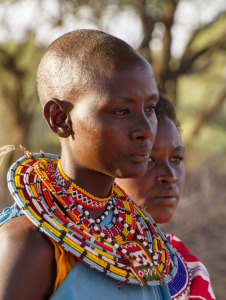 June 2015 – EYE PRO, Inc., world leader in eyewear and makers of Ultra Gold WINK-EASE, WINK-EASE Dark and the NEW Lash Room WINK-EASE, has purchased fifty beaded bracelets made by Kenyan women and will be giving them away to tanning salon owners during several Facebook promotions.
"We just came back from our sixth trip to Africa," said Brenda Fishbaugh, EYE PRO president. "We met with the staff of the Northern Rangelands Trust while in Kenya.  One of the biggest problems facing the rare rhino, elephants and other exotic animals is the lack of grasslands.  The large herds of goats, sheep, cattle and camels often decimate the limited grass and water supplies.  This organization provides Kenyan women with jobs.  The money from the sale of these beautiful bracelets goes to help the most needy of communities and decreases their dependence on livestock as their only source of income."
Fishbaugh continues: "We were thrilled to support Northern Rangeland Trust's efforts by purchasing 100 bracelets hand-made by the Kalama Women's Group in the Samburu district of Northern Kenya.  We decided to share them with our tanning salon customers!"
How can you get a one-of-a kind bracelet?  Follow Eye Pro on their Facebook page, "Wink-Ease".  The first 50 salons to do so will win a Kenyan bracelet. Salons can win three ways:  by sharing a Wink-Ease post or video on your salon page (no personal pages, sorry), by commenting on Wink-Ease's Facebook page about eye protection at your salon, or by participating in several contests that will be offered on the Wink-Ease Facebook page.   Eye Pro will be checking pages and randomly selecting winners – so keep posting/sharing/commenting.

"We'll be looking for salons that share our eye protection posts, as well as our new videos about our disposable eye protection products," said Jackie DeWald, Eye Pro office manager.  "We'll notify the salons that have won on our Facebook page, and the salon winners will have a day to contact us with their mailing address.  Selected salon winners will receive by mail an authentic beaded bracelet made by Kenyan women. Each bracelet is completely unique.  We hope it will be a fun and easy way to support the Kalama Women's Group, and a slightly different way of raising awareness and helping protect endangered animals," DeWald concluded.
For more information on NEW Lash Room WINK-EASE, Ultra Gold WINK-EASE and WINK-EASE Dark, visit EyePro.net or contact EYE PRO at 1-800-726-8322. More information about the Northern Rangeland Trust is available at www.NRT-Kenya.org.
Follow and "like" EYE PRO on Facebook (Wink-Ease) or Twitter(@WinkEase1) to learn about special salon offers and promotions.