Let EYE PRO help you get a fresh start in 2021 with FREE support!
January 2021 – EYE PRO, Inc., world leader in disposable eye protection for indoor tanning and makers of Ultra Gold WINK-EASE, Lash Room WINK-EASE and WINK-EASE Dark, continues to be committed to the tanning industry and supporting salons in every way possible.
"2020 has been filled with challenges with salons forcing to close, reduce staff, implement new cleaning procedures and find ways to keep client feeling safe enough to come back in," explained Brenda Fishbaugh, President of EYE PRO. "Everyone seems to be looking forward to 2021, not only to get 2020 in the past, but also to approach the year with a fresh start. It's a wonderful time to come together, support each other and find creative business solutions to keep communicating to our tanning clients, while assuring them to find ways to stay relaxed, comfortable and safe."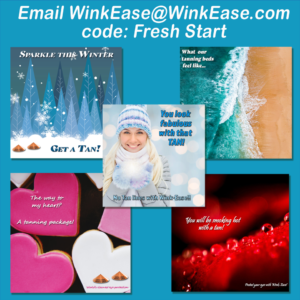 "The possibilities are endless," echoed Jackie DeWald, Office Manager for EYE PRO. "Along with re-merchandising, why not take this opportunity to review marketing and social media efforts, customer relations, and make sure your staff is well-trained on all lotions for each skin type, as well as the various types of eye protection available?"

One way EYE PRO is helping is by offering "Don't be Slow to Save Your Sight!" — a FREE online eye protection training for salons for the 2021 season. This brand new FREE training is a great way to get salon staff trained and help kick off the 2021 season. The 30-minute training includes a quick 20-question quiz for salon staff on eye protection knowledge. Everyone who completes the new training will receive FREE educational materials to share with tanners and a personalized certificate verifying they are an "Eye Protection Expert" to display in their salon. 
And, if you sign up to be an EYE PRO V-Eye-P member, you'll also receive exclusive monthly email offers — along with ways to access and share over 1000 FREE tanning memes on your salon's social media channels – a great plus to add into how you communicate and stay in front of your tanners. To sign up, simply email Jackie@WinkEase.com with your name, salon name, address, email and phone mail. 
"Take advantage of any free support or free trainings being offered, and be sure to give each client a bit more personal attention. Now more than ever it's the little extra care that is keeping and maintaining clients as loyal and trusting customers," DeWald continued. "Also, make sure your salon is sparkling clean!  Unfortunately, the fear of COVID-19 isn't going away immediately, so we all must find ways to adapt and keep our clients feeling safe and our business doors open." 
"Going into 2021, we as an industry need to fight the 2020 pandemic fatigue and remind clients how good tanning and the salon experience can still make you feel good and look good," Fishbaugh reminded. "For some salons, that may be a 'people' focus — training new staff and making sure all staff members are working as a team.  For others, it may be 'environment-focused' — creating new displays for lotions, eye protection and accessories, or freshening up with a new coat of paint on the walls.  And be sure to stay in contact with your customers!  Create promotion bundles with lotions and eye protection, or offer monthly events like raffle prizes to attract tanner attention, and take advantage of any free marketing support to easily ramp up your social media.  All of these work together to make every client feel special."
To take EYE PRO's 2021 FREE online training, go to www.WinkEase.com, hover over the 'Support' navigation button, then select "Salon Training" from the drop-down menu.  
For more information on Ultra Gold WINK-EASE, Lash Room WINK-EASE and WINK-EASE Dark disposable eye protection visit WinkEase.com or contact EYE PRO at 1-800-726-8322.
Follow and "like" WINK-EASE on Facebook, Twitter, You Tube, Instagram and Pinterest to learn about special salon offers and promotions.