Memes Increase Spring Sales!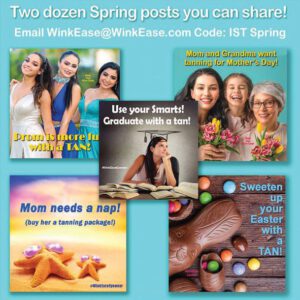 April 2020 – Eye Pro, Inc., world leader in disposable eye protection for indoor tanning and makers of Ultra Gold WINK-EASE, Lash Room WINK-EASE and WINK-EASE Dark, is offering fun tanning ads for salons to use to promote their pro-tanning presence and seasonal sales on social media.
"Spring is a perfect time to extend your sales season. It's important to stay in front of tanners as they start going outside to tan," suggests Jackie DeWald, Eye Pro Office Manager. "Memes are a fun way to make a positive and immediate connection."
"Our world is so driven by social media, and we want to support salons and our industry in any way we can," stated Eye Pro President, Brenda Fishbaugh."We have created a ton of fun and positive seasonal memes that salons can post on Facebook, Twitter and Instagram to help promote their tanning services during the spring season."
Using social media sites like Facebook, Instagram, Twitter, YouTube and Pinterest, Eye Pro offers many ways for salons to connect with a larger variety of tanners. "Why not take advantage of FREE advertising already created and help maximize your marketing budget?" Fishbaugh concluded.
Salon operators wishing to receive FREE memes can simply email WinkEase@WinkEase.com with subject: "IST Spring memes." Eye Pro will email your memes to help you reach your tanners!
For more info on Eye Pro products, visit WinkEase.com or call 800.726.8322.