More FREE Re-Opening Tanning Memes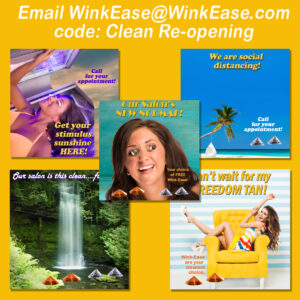 June 2020 – Read entire article here. If you're a salon and would like to receive a selection of FREE re-opening tanning memes to use for your social media marketing, simply email WinkEase@WinkEase.com with "IST Re-Open" in the subject line. EYE PRO will send you via email your FREE tanning memes to help you reach your tanners! 
Not opening yet? Email WinkEase@WinkEase.com with "IST Missing You" in the subject line for memes that let your tanners know they are important and the heart of your business.  
For more information on Ultra Gold WINK-EASE, Lash Room WINK-EASE and WINK-EASE Dark, visit WinkEase.com or contact EYE PRO at 1-800-726-8322.
Follow and "like" WINK-EASE on Facebook, Twitter, You Tube, Instagram and Pinterest to learn about special salon offers and promotions.