Spray-Tan Techs Need Protection!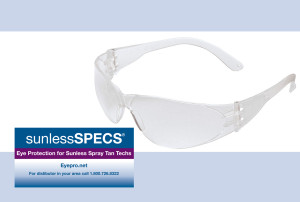 SEPTEMBER 2018 – Eye Pro, Inc., the world leader in disposable eye protection for indoor tanning and makers of Ultra Gold WINK-EASE, Lash Room WINK-EASE and WINK-EASE Dark, isn't just interested in protecting the eyes of indoor tanners from UV rays, but is serious about eye protection in the spray-tan environment, as well. 
"The FDA highly recommends that both spray-tanners and spray-tan techs protect their mucous membranes from DHA spray," says Brenda Fishbaugh, Eye Pro President. "Protecting your eyes, nose, mouth and genitals is so important and while there is no law yet to require eye protection while spraying or being spray-tanned, the FDA is moving in that direction." 
Techs who continuously use a handheld spray-gun can get DHA solution overspray in their eyes. "We see mobile tanning techs doing spray sessions in poorly ventilated rooms," Fishbaugh continued. "The FDA recommends protective eyewear for the tech and a mask to protect their lungs from the solution mist." 
"When wearing our SunlessSPECS protective glasses, spray-tan techs are shocked by the amount of overspray collected after just a few sprays," says Jackie DeWald, Eye Pro Office Manager. "Without protection, all of that overspray would have ended up in the tech's eyes." According to Eye Pro, spray-tan techs love the comfortable fit of the plastic, re-useable glasses and the solution overspray washes off easily. 
"Salon product distributors carry sunless eye protection for both spray tan clients and techs," adds DeWald. "SunlessSPECS are under $10 a pair, so they're easily affordable." 
Are you interested in trying SunlessSPECS protective glasses for YOUR techs? Eye Pro will give a FREE pair to the first ten U.S. salon operators who email WinkEase@WinkEase.com. To qualify, please enter "SunlessSPECS IST" in the subject line and be sure to include your complete salon name and mailing address. 
For more info on Eye Pro products, visit WinkEase.com or call 800.726.8322. Follow and "like" WINKEASE on Facebook, Twitter, Instagram, YouTube and Pinterest to learn about special salon offers and promotions.