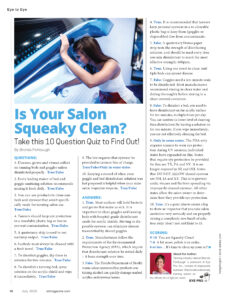 August 2020 – Eye Pro, Inc., world leader in eyewear and makers of Ultra Gold WINK-EASE, Lash Room WINKEASE, and WINK-EASE Dark, wants to help salon operators help customers know their tanning experience is safe, healthy, and most of all, "squeaky clean!"
Is your salon squeaky clean? Does your team use quaternary strips every day to test solution? Is bed disinfection a ten-minute soak or a two minute soak? When cleaning sunbeds after each session, do you need to use a fresh towel in every tanning room? Not sure? Test you and your staff with our one-minute quiz and find out whether your salon is squeaky clean or if you need some polish!
To receive Eye Pro's FREE sixty-second quiz, please email WinkEase@WinkEase.com with "IST Squeaky Clean" in the subject line and we'll send you a sixty-second quiz that will reveal any weak spots in YOUR salon team's cleaning regimen.
For more info about Eye Pro products, visit WinkEase.com or call 800.726.8322.
To learn about special salon offers and promotions, follow and "like" WINK-EASE on Facebook, Twitter, YouTube, Pinterest and Instagram.