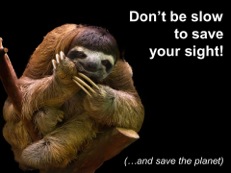 November 2020 – EYE PRO, Inc., world leader in disposable eye protection for indoor tanning and makers of Ultra Gold WINK-EASE, Lash Room WINK-EASE and WINK-EASE Dark, wants to be sure salons are equipped to help their tanners understand the dangers of not wearing proper eye protection when tanning. And they're helping save the planet while doing so.
EYE PRO will be introducing its all new FREE online eye protection training for the 2021 season called "Don't be Slow to Save Your Sight!" The new 30-minute training includes a quick 20-question quiz for salon staff to take to help determine who's smart about eye protection, with questions ranging from what percentage of tanners seek medical attention after a single session to potential eye damage and vision loss to updates on FDA recommendations and eye protection laws for individual states and countries.
An added plus? For every person who takes the new training, EYE PRO will be donating $1 to the National Geographic Photo Ark, a 25-year effort to photograph the world's largest collection of animal studio portraits from around the globe, founded by National Geographic photographer Joel Sartore.
"We have made a very serious topic really fun!" explains Jackie DeWald, EYE PRO Office Manager. "The goal of the Photo Ark is to get people to learn more and help save species from extinction. The WINK-EASE team has worked to help support endangered animals for over two decades, and Brenda has traveled the world photographing animals in their natural habitat. Her striking animal images in this training make fun, and more importantly, a memorable way to learn more about the importance of wearing eye protection."   Continue Reading »