Want to increase your eyewear sales? Click on any of the salon tips links below from the EYE PRO Eyewear Experts!
WINK-EASE Has ALWAYS Been the CLEAN Choice!
FREE 30-minute eye protection training
Click here to take our award-winning training!

Make the switch to selling eyewear instead of cleaning it!
Click here to download our popular guide to switching.
How to Properly Clean Goggles
Click here to download the steps required by law for proper sanitation.

10 Easy Tips to Avoid Raccoon Eyes
Click here to download some easy ways to overcome eyewear objections!
Can your staff/tanners answer 9 basic questions about eye protection? We don't think so!
Click here to download the Tanners' Quiz and find out how they do.
104-point Cleaning Checklist (PDF)
Click here to download Total Tan's comprehensive checklist to see how your salon stacks up to a spotless salon!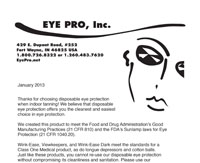 Disposable eyewear can only be worn once because it is licensed by the FDA as a Class One Medical Product
Click here to download our letter explaining this to your tanners so they don't re-use Ultra Gold WINK-EASE or Lash Room WINK-EASE.