Take the WINK-EASE 7-Day Facebook Challenge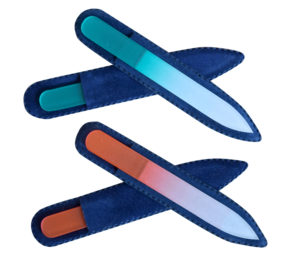 November 2016 – EYE PRO, Inc., world leader in disposable eye protection for indoor tanning and makers of Ultra Gold WINK-EASE, Lash Room WINK-EASE and WINK-EASE Dark, wants salons to take the 7-Day Facebook Challenge to show how much they've learned about social media!
"7-Day challenges are trending with a lot of topics – they're quick, easy, and fun to do," explains Brenda Fishbaugh, President of EYE PRO. "We want to be sure all our salons understand how easy it is to be more effective on Facebook, so we included a 7-Day Challenge in our 2017 salon training — "Social Media for Tanning Salons Part 1".
"After completing our FREE 30-minute online training, we challenge you to do "Step One" seven days in a row," Fishbaugh continued. "The salons who complete the challenge receive special gifts and EYE PRO goodies," said Fishbaugh.
7-Day Facebook Challengers will receive two high quality crystal nail files, perfect to fit into a small purse or pocket, and EYE PRO's new Window Cling reminding tanner to wear eye protection. Free product samples, a laminated counter mat, a tanner's quiz and more are all part of the goodie package.
"Feedback from salons on our "Social Media for Tanning Salons Part 1" training so far has been incredible," says Jackie DeWald, Office Manager. "Every salon has learned something they didn't know before, and love it because it only takes minutes to do," she concluded.
To take the FREE 30-minute Social Media training, visit WinkEase.com and click on the support tab and select the training from the drop down menu.  Fishbaugh also say that "Social Media for Tanning Salons Part 2" will be available later in the year.
For more information on Ultra Gold WINK-EASE, Lash Room WINK-EASE or WINK-EASE Dark visit WinkEase.com or contact EYE PRO at 1-800-726-8322.
Follow and "like" WINK-EASE on Facebook, Twitter, You Tube, Instagram and Pinterest to learn about special salon offers and promotions.