WINK-EASE Helps Salons "Make the Switch" and Make More Profits!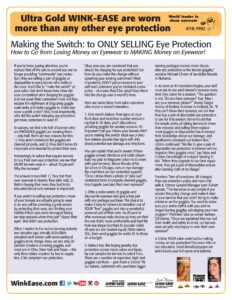 September 2019 – EYE PRO, Inc., world leader in disposable eye protection for indoor tanning and makers of Ultra Gold WINK-EASE, Lash Room WINK-EASE and WINK-EASE Dark, is offering salon owners a FREE step-by-step guide on how to no longer provide shared eyewear and sell it instead.  
"Salons are always looking for ways to make a profit on accessories," explained Brenda Fishbaugh, EYE PRO president. "Sometimes the salons don't realize the expenses involved in providing eyewear for free instead of selling it," Fishbaugh continued. "We've created the 'Making the Switch: to only SELLING Eye Protection' handout with easy step-by-step instructions to help salons implement a new policy of not providing eye protection and losing money."
Goggles need to be disinfected properly and most salons don't follow the EPA (Environmental Protection Agency) instructions and manufacturer's instructions. "Did you know solution is required to be mixed daily and goggles must soak 10 minutes?" asked Fishbaugh. "Or that clean goggles need to be in a covered container to avoid contamination?" 
Shared eyewear is expensive and poorly cleaned eyewear can spread colds, flu and eye infections to tanners. "Thousands of salons have made the switch to just selling goggles and WINK-EASE disposable eyewear," said Jackie DeWald, EYE PRO Office Manager. "Selling each pair of WINK-EASE for 50 cents or a dollar makes a big difference on the bottom line." 
Only three states now require eye protection to be provided for free by salons — New York, Pennsylvania and Texas. New Jersey and Ohio no longer require salons to provide free eyewear. Salons in Kentucky, New Hampshire and Iowa MAY NOT allow tanners to share eyewear, since it spreads disease if not disinfected properly.  Salons in all other states may choose whether tanners purchase eyewear or salons can provide disposable WINK-EASE at no cost to tanners.  
To receive the FREE "Making the Switch: to only SELLING Eye Protection" handout, email WinkEase@WinkEase.com and enter "Make the Switch" in the email subject line. Salons will receive a link to download the handout/article.  
Salons can also request a FREE step-by-step goggle cleaning procedure. To receive EYE PRO's "How To Clean Goggles", email WinkEase@WinkEase.com and enter "Goggle Cleaning Expert" in the email subject line.  
For more information on Ultra Gold WINK-EASE, Lash Room WINK-EASE or WINK-EASE Dark, visit WinkEase.com or contact EYE PRO at 1-800-726-8322.  Follow and "like" WINK-EASE on Facebook, Twitter, You Tube, Instagram and Pinterest to learn about educational information, special salon offers and promotions.