WINK-EASE Leopard Sales Help Save Clouded Leopards!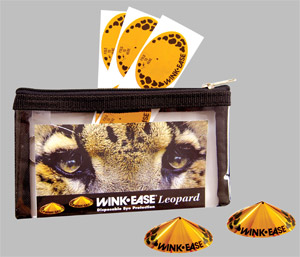 January 3, 2013 – EYE PRO, Inc., world leader in eyewear and makers of WINK-EASE, VIEWkeepers, Fresh-Ease, and Wink-Ease Dark, is helping raise money to save the endangered Clouded Leopards with its new eye protection – Wink-Ease Leopard – and salons can help too!
"For a limited time only, we've added leopard spots to our famous Wink-Ease eye protection, and are offering 30 pair of Wink-Ease Leopard in a zipper pack," said EYE PRO President Brenda Fishbaugh.  "These are great for salons to use for promotions – and for every pack purchased, we will be donating $1 to the Clouded Leopard Project to help rescue efforts of this rare Asian cat," continued Fishbaugh.
"To date, EYE PRO has raised over $1,000 – which will make a HUGE difference in keeping fundraising efforts alive," continued Fishbaugh. These small leopards, which are found in the rain forests of Thailand, are called "clouded" because their leopard spots are very large – like light gray "clouds" covering their compact bodies.  They first captured Fishbaugh's interest when she learned that while there were many organizations working to save animals like the tiger and panda, lesser-known endangered animals were hugely underfunded. "Several zookeepers we have worked with in the past are now focusing their efforts to save the Clouded Leopards," Fishbaugh explained. "They are thrilled that we are helping to raise both awareness and dollars."
Fishbaugh also said this is a good way for salons to show their customers they are socially responsible. Salons can download and print Wink-Ease Leopard posters at EyePro.net  to place in tanning rooms and help make customers aware of the salon's efforts. Salons may order Wink-Ease Leopard from their favorite distributor.
For more information on the Clouded Leopards and the efforts to save them, visit CloudedLeopard.org.
For more information on Wink-Ease Leopard, along with WINK-EASE and VIEWkeepers disposable eyewear, new Wink-Ease Dark disposable eye protection for red light AND tanning, and Fresh-Ease Refreshing Body Cloths for after tanning, visit EyePro.net or contact EYE PRO at 1-800-726-8322.
Follow and "like" EYE PRO on Facebook (Wink-Ease/Eye Pro) to learn about special salon offers and promotions, and updates on the clouded leopard project.