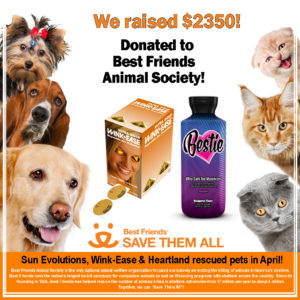 May 2017 – Sun Evolutions, Heartland Tan and Eye Pro teamed up in April to raise funds for Best Friends Animal Society to prevent 9,000 dogs and cats from being killed daily in shelters.
During April, $3 was donated to Best Friends Animal Society for every "Best Friends" deal purchased from Heartland Tan. The April deal included a bottle of Bestie tanning lotion from Supre Tan and a box of EYE PRO's Wink-Ease disposable eye protection.
Best Friends Animal Society is the only national animal welfare organization focused exclusively on ending the killing of animals in America's shelters.  Best Friends runs the nation's largest no kill sanctuary for companion animals as well as lifesaving programs with shelters across the country.  Since its founding in 1984, Best Friends has helped reduce the number of animals killed in shelters nationwide from 17 million per year to about 4 million.  Together, we can "Save Them All"!
"Heartland Tan was honored to exclusively offer this deal to benefit Best Friends", said Abby Henson Gallagher, Heartland Tanning Director of Marketing.  "Our team is completely behind this cause and our customers loved it!"
"Sun Evolutions is a sponsor of Best Friends, and we were delighted to team up with industry leaders, Eye Pro and Heartland. We want to thank all the salons that enthusiastically supported us by buying this deal!", exclaimed Maggie Curran, Vice President of Sun Evolutions.
"Wow!  I can't believe we raised $2,350 to help find forever homes for pets nationwide!  Thanks to the salons, Heartland, and Sun Evolutions who all made this promotion a raving success!", said Brenda Fishbaugh, President of Eye Pro.
Contact Heartland Tan at 1-800-554-8268 to stock up for your Wink-Ease and your favorite Sun Evolutions products. For more information on Best Friends Animal Rescue, visit BestFriends.org.
For more information on Ultra Gold WINK-EASE, Lash Room WINK-EASE or WINK-EASE Dark visit WinkEase.com or contact EYE PRO at 1-800-726-8322.
Follow and "like" WINK-EASE on Facebook, Twitter, You Tube, Instagram and Pinterest to learn about educational information, special salon offers and  promotions, and find fun tanning ads to "share"!