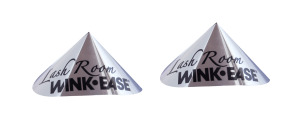 December 1, 2014 – EYE PRO, Inc., world leader in eyewear and makers of Ultra Gold WINK-EASE, VIEWkeepers and WINK-EASE Dark, have created a new option for tanners with long lashes — Lash Room WINK-EASE®!
"We have been in the eye protection business since 1985 with our 'original' WINK-EASE product," said EYE PRO President Brenda Fishbaugh.  "With last season's improvements with Ultra Gold WINK-EASE –  better adhesive, visibility and ease of assembly; it was time to offer the same great improvements in eye protection for tanners with long lashes," continued Fishbaugh.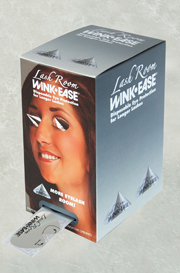 "Lash Room WINK-EASE are silver in color, and when folded into a cone, have much more room for long eye lashes, eye lash extensions or clients wearing mascara," Fishbaugh explained. "We are excited we were able to provide the same great updates and benefits Ultra Gold Wink-Ease experienced a year ago," she concluded.
For more information on Ultra Gold WINK-EASE, Lash Room WINK-EASE disposable eyewear or WINK-EASE Dark disposable eye protection for red light and napping while tanning, visit EyePro.net or contact EYE PRO at 1-800-726-8322.
Follow and "like" EYE PRO on Facebook and Twitter (Wink-Ease/Eye Pro) to learn about product samples, special salon offers, promotions and updates.